3D Floor Plan is a useful tool that plays an important to express the relationship between rooms and space and especially attract home buyers. It is considered as key point to support the success of real estate agencies or real estate photographers. Therefore, why 3D floor plan makes real estate photos more prominent?. On the other hand, how to attract home buyers with a 3D floor plan?. The article below will bring the best answers for the readers.
As far as we know, once we live in the digital age, 3D digital technology becomes a popular thing. The 3D floor plans are an essential part of real estate marketing and home design, home building, interior design, and architecture projects. Creating a floor plan is the best way to start a home design project of any sort.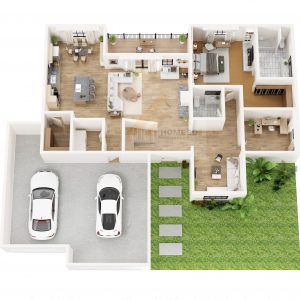 For real estate agencies, creating a before and after floor plan is an excellent way to demonstrate the scale and scope of a project to a home builder or contractor, which will help them to get better and more accurate pricing.
For designers or photographers, this will save you time and effort when moving, setting up a new home or office space and it can help you to avoid making expensive mistakes.
That's the reason why luxury real estate agents have started using 3D floor plan views. It's an innovative, intuitive format that is engaging and detailed, satisfying the intellectual, creative, and emotional decision-making centers.
When paired with descriptive copy, traditional luxury real estate photography, and Immersive 3D Tours, a 3D floor plan can help home buyers have a true and detailed look. This gives a home buyer varied and better choices to choose from. They can explore the property in detail at their leisure, day or night, from wherever they are.
In summary, immersive 3D floor plans will provide sellers and agents the chance to take and show detailed measurements and designs. This will allow buyers to visualize the key details of their potential new home that will give them have an intelligent choice and plan their move confidently.
If you are interested in the 3D Floor Plan as well as wanna have amazing experiences with 3D Floor Plan image, let's contact us today.