Only a few more months until we say goodbye to 2021, a tough year, but which has made us love our home more. The coronavirus has shaken our lives up and down and it is not surprising that our interiors have become shelters, where we can find comfort and safety. Therefore, this is a great time to conduct to re-decorate your house include creating ideas, buying materials and turning them into reality. Our suggestions will provide you with a curated look that will bring your home into the New Year with sensational style.
1. Basic colors
From home today everyone expects calm and relaxation, multiplied by comfort. Therefore, many people liked the neutral palette of natural shades. Beige is the most relevant color as a base, both in cold and warm shades. Paint brand Dulux has named Brave Ground the Color of the Year 2022.
There are also micro-trends in colors. Classic blue was the 2021 favorite. But not only the classic shade is relevant, but the whole palette of blue. For example, the equally well-known paint brand Benjamin Moore in 2022 prefers the shade Aegean Teal – a dusty mixture of blue and green with gray notes.
2. Rounded shapes
In 2022, the decoration continues to soften by adopting furniture with rounded and curved shapes. Synonymous with comfort and softness, the lines are more generous and sensual. Pay attention to tables, lamps, poufs and sofas – almost all furniture loses right angles, they are rounded. Even the chairs and stools have a softened body, rather than a rigid, straight structure.
3. Smart Furniture
Technology and interior design have influenced one another, so of course, the latest interior design trends for next years will reflect progressions in technology. As a result, current trends encourage furniture with a digital or automated feature that easily accommodates the new wave of home assistant technologies.
4. Sustainable materials furniture
With this current interior design trend in mind, you can check local thrift stores or second-hand markets for something that fits your design aesthetic instead of purchasing a new item.
Additionally, certain materials are more environmentally friendly than others. For example, bamboo is a more stylish choice with the latest interior design trends. Also the furniture and home decor can add to that natural look with items made of natural materials such as wicker and rattan.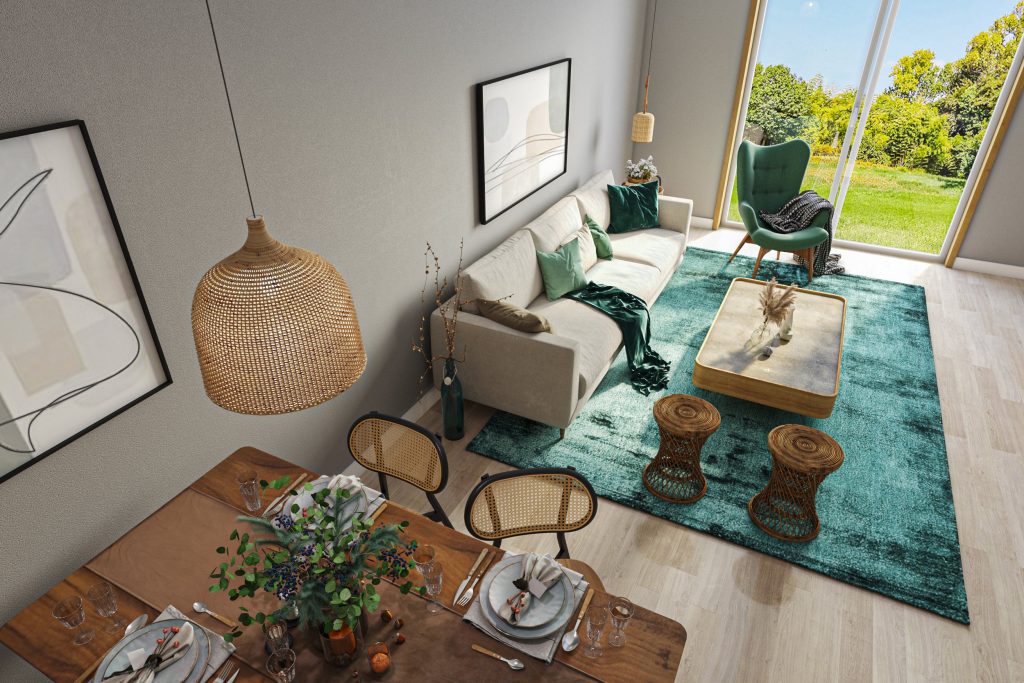 5. Vintage style
Vintage interior design never goes out of style and grows in popularity every year. With the advent of minimalism, vintage décor made a huge comeback. Shabby Chic design elements are still extremely popular and are featured in almost every décor magazine.
Generally, the true foundations of vintage décor design implement inviting colors, luxurious fabrics, and a mix of eclectic styles. Antique, repurposed, salvaged and retro pieces all have their place in a vintage scheme. You can also consider using and renovating old furniture in your home to unleash your creativity and save money.
6. Minimalism
Minimalism is still recognized as the fashionable interior of 2022. During the pandemic, many tried to get rid of old non-functional things. And this affected not only the wardrobe but also household items. 
All you have to pay attention to is that the product has an interesting shape or the right hue. Otherwise, the design will look unfinished and too simple. Make sure that your shopping is within budget to avoid waste and impulse purchases. It is not necessary to decorate the whole house, creating a few accents is enough. Less is More is more relevant than ever.
7. Flexible Spaces
In the past, spaces were often designated for the purpose they served – sitting areas, dining areas, meeting rooms, etc. However, people now want more multi-functional spaces, allowing them to make the most out of their space. Especially for people living in smaller spaces, utility and functionality are essential, making flexibility a current interior design trend.
8. Nature Comes Indoors
Decorating with trees is not a new trend but this year there's been a big move during the Corona pandemic. Of course, not all people are fortunate enough to live surrounded by nature but luckily you can still bring the outdoors inside with plants. Decorate your home with greenery, use window sills to grow herbs and add flower boxes to add a little nature to your home. Another choice is picking up non-capricious specimens such as sansevieria, monstera or ficus elastica in common spaces in the house. 
If you are wondering about the decoration for your live space, you can use the 3D rendering service to get a more realistic view of the future house. Home3ds is a unit that provides 3D Visualization with high quality and reasonable price. Contact us today to get more details!