At any time, most people like to take full advantage of sunny days in the backyard. So, a poolside is a good place for you to relax after a hard-working day. To help you keep the backyard pool and the surrounding area looking as good and relaxing as it possibly can, here are some tips that should prove to be useful.
1. The size of the pool
Size is obviously an important factor when working out how to design a pool. You can choose a suitable size base on the area of the backyard. Besides, you will also need to factor in your budget. It's worth remembering that a larger, deeper pool will be more difficult and expensive to heat.  
2. The style of pool
People said that nothing is more relaxing than simplicity. You need to apply a simple style for the pool in your house. It is a great idea to surround your pool with some hedges and at least one big tree. Moreover, if you want to go for a more rustic vibe, you can design the pool with an organic shape or Terrazzo decor.
3. Exterior with Interior Swag
It is so great to make the outdoor space more attractive with poolside furniture. You can put a coffee table, soft furnishings, rug and lighting to help you have good vibes to relax. If you have a bigger budget, you can also replace the dividing wall with sliding glass doors or add a well-kitted kitchen. Enjoy dinner with your family at the poolside is also a great idea.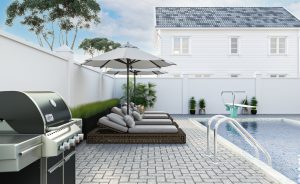 4. Using lights
You can make the space of the swimming pool warm and romantic by using some suitable lights. Keep the night young by adding festoon lights or a large focal light. Besides, you can use a few floor lanterns of various sizes for ambiance. You can pick solar-powered lights to ensure safety and saving.
5. Safety
The swimming pool is great for exercising, relaxing and socializing, but it can also present a risk if the proper precautions are not put in place at the design stage. In the process of designing the swimming pool, your chosen pool company will be able to advise you on the safety protection devices available to safeguard your pool, such as a pool cover, enclosure or fencing. You must follow all instructions to ensure the safety in process of using the swimming pool.
Need a professional team to create the 3D rendering design? Don't be hesitant to visit us at Home3ds to get great service and high-quality products.