A great kitchen can really sell a house. We're sharing the 5 secrets to home staging a kitchen in this post.
The kitchen is one of the most important spaces in the home, and a well-staged kitchen is a very attractive quality to potential buyers. Updating your kitchen is just one of the many ways to add instant appeal to your property.
But what makes a kitchen appealing? How does one decorate the kitchen space? And isn't staging a kitchen expensive?
In this post, we'll be answering all these questions and more: here are 5 secrets to home staging your kitchen.
1. Make Your Countertop Sparkle
The countertop is a kitchen's biggest feature, and for this reason, it should always be kept clean. Having just a few basic items on the counter shows off the workspace, keeping it clutter-free, minimal and clean.
If your countertop material is damaged or outdated, consider installing something new and fresh. This goes for sinks as well. Some popular countertop materials to consider are quartz, granite, glass, and stainless steel. Try to make sure that your choice of the material highlights the existing features of your kitchen or any decorating ideas you have in mind.
If you're on a tight budget, broken slabs of stone material can often be purchased at a discount and be cut and measured to taste.
2. Decorate Your Walls
If a new countertop isn't within your budget, putting a new backsplash on your wall is a cheaper alternative to consider when staging a kitchen.
The tiled backsplash is the popular choice among homeowners, but other interesting options include mirror, metal, and marble. A simple backsplash can enhance the mood of your kitchen, making it bright, bold and inviting.
Getting a new paint job is an even cheaper option to consider, with neutral colors such as beige and white being the go-to options.
3. Accessorize
Accessorizing is a simple way to add a fresh touch to your kitchen space.
Decorate your kitchen with some complimentary items such as glass jars, decorative canisters, tea towels and cookbooks to liven the aesthetic. Try mixing and matching the contents of your glass jars with assorted pinecones, artificial fruit, or different colored beans.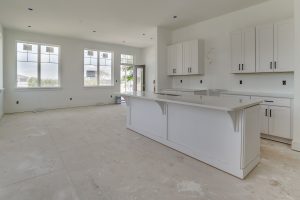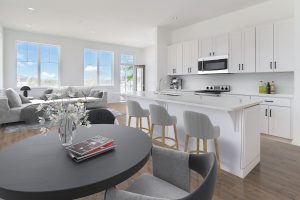 4. Organize Your Cupboards
Nothing says "low storage space" more than a cluttered cupboard.
For a cleaner appeal, keep glass door cupboards minimally staged, with one or two items on show.
Removing any excess items in the cupboards and the pantry will create more space. Try to organize these spaces as neatly as possible when staging.
5. Lighting
Changing the light fixtures to match the aesthetic of your kitchen is another great way to enhance the look.
Outdated light fixtures can be repelling, and installing something simple and contemporary can help to entice potential buyers.
Whether modern or rustic, a good lighting choice can create ambiance. Consider using bright lighting in your kitchen for a more open feel.